TECHNOLOGIES
Our technology allows us to be industry leaders and innovators.
View our full Product Line Brochue: Gast Product Line Brochure
AIR MOTOR TECHNOLOGY
Gast rotary vane air motors use compressed air to produce rotational motion of a shaft.  Rotary vane air motors have axial vanes fitted into a slotted rotor, which mounts eccentric with the bore of the motor's housing. The vanes extend to seal against the housing bore using springs, cam action, or air pressure, depending on the motor design. Torque develops from the pressure of the compressed air acting on one side of the vanes causing the rotor to spin.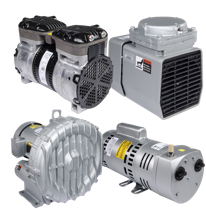 COMPRESSORS & VACUUM PUMPS
Gast offers a complete line of air-moving products in a broad range of types and sizes for pressure and vacuum generation.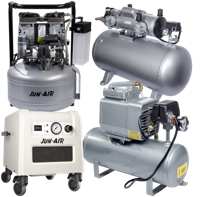 TANK SYSTEMS
Tank systems are designed to make small pumps do big jobs and are a natural extension of our Gast and Jun-Air lines. Utilizing either our Piston or Rocking Piston compressor technologies, these systems can be designed work with a range of tank sizes to meet the needs of your specific applications. Included in our Gast line are tank systems specifically designed for dry sprinkler applications. The Jun-Air line of clean and quiet compressors are the perfect choice for a range of medical, dental, and laboratory applications and are backed by a two-year warranty.